winter driving tips, get prepared for bad weather.
Winter driving tips
As we begin to enter the winter months it is time to prepare our car for the inclement weather ahead.
We all know the inevitable white stuff that blights our lives at these times of the year is imminent. We all should do some preparation to make our lives that little bit easier when that damn snow falls.
below is a little infographic we have made to enlighten you on some of the things you can do to prepare for winter with some winter driving tips.
Snow has fallen every year since 2010. Snow will most probably fall again this winter.
WHAT CHECKS CAN YOU MAKE
Simple checks that involve making sure we have anti freeze fluid in our coolant system to combat the freezing conditions. A good ice scraper is very handy along with possibly a little snow shovel to clear areas around the car. Have blankets and warm clothing in case of any problems whilst driving to keep warm for breakdowns or traffic jams. Check that your heating ventilation system is working correctly to keep you warm in car and to stop windows freezing. Also, check that your wiper blades are in good working order and all lights are working.
While out driving consider other road users and clear off excess snow from windows and roofs before you set off so that it does not blow off into the path of oncoming or following vehicles as that could cause a hazard both to you and them. Always drive in a higher gear at low speeds to reduce the risk of skidding and plan your slow downs in good time using gear shift down to slow the car instead of braking at the higher speeds of driving until your speed reduces enough to do light braking. Remember that you should allow 10x the usual braking distance when driving in snow or very icy conditions compared to normal road conditions.
If you can front the costs try going for winter tyres. They will help grip when driving on snow and icy conditions.
Above all, plan ahead and give yourself more time to reach your destination.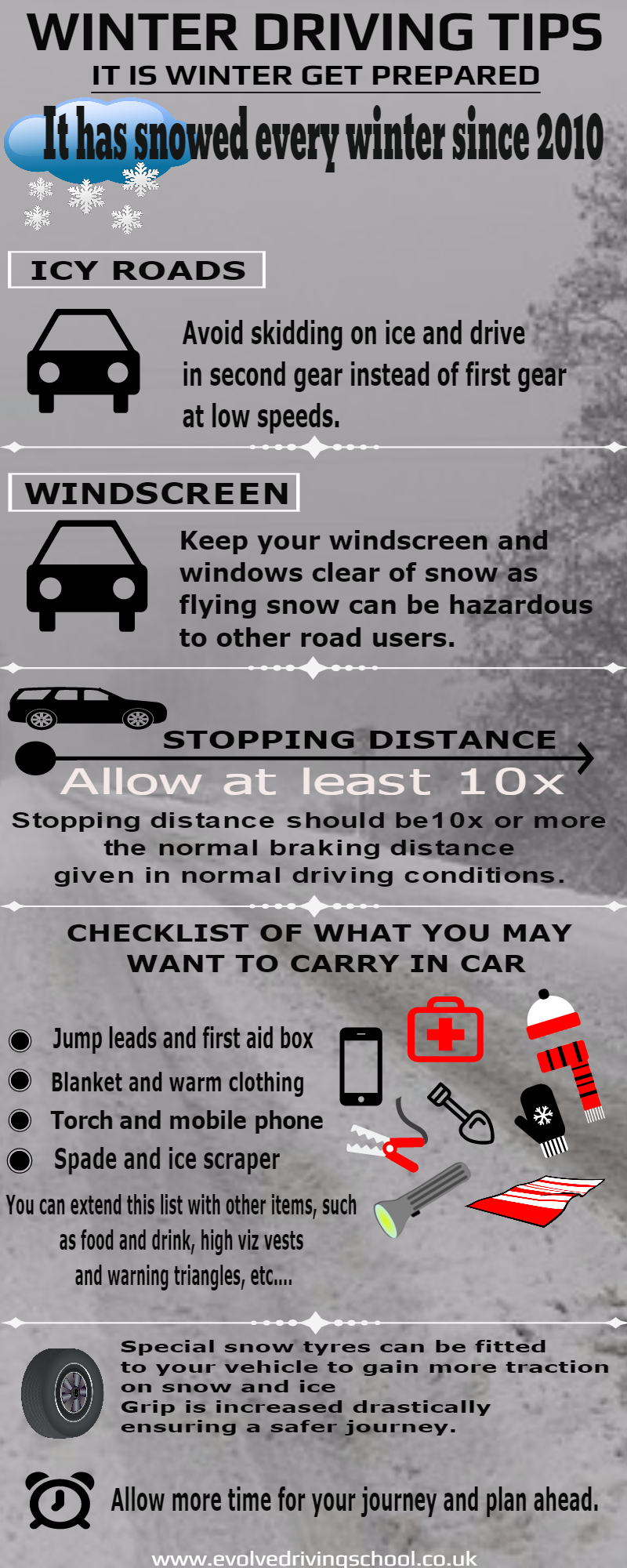 We hope you like this simple infographic on winter driving tips to get prepared.