Driving test passes for 2017
If you would like to take driving lessons in Milton Keynes with a highly respected local driving instructor contact us and we will do the rest to get you your driving licence.
Chantelle, wrote.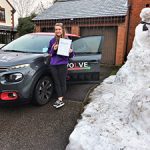 I managed to pass my driving test first time, thanks to Bry. I have enjoyed every lesson with him because not only were the lessons well structured with clear instructions on everything, he was also patient and supportive throughout and made every lesson enjoyable. I left feeling more confident with my driving every time due to him pushing me slightly more and more out of my comfort zone which enabled me to gain the experience needed to ensure I was learning something new every lesson to enable me to passfirst time. Bry is a brilliant instructor and I would not have been able to do it without him. Thank you, Bry, for helping me gain my freedom.
Chantelle Trzeciak-Hicks, from Middleton
Passed FIRST TIME December 2017
Megan, Wrote.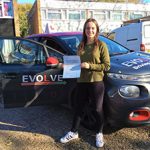 Never thought I'd be able to have so much fun learning to drive, Bry was serious when needed but also hilarious. I was able to relax and make mistakes while laughing throughout the whole time. His instructions are very clear and explains everything well. Not only is he an excellent instructor but he is a lovely guy. I could not have passed my test without him. Thank you, Bry.
Megan Read, from Bletchley
Passed October 2017
Harrison, Wrote.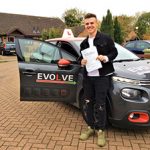 What an amazing driving instructor. I paid out lots of money when I first started driving to a different instructor from Bryan and didn't get anywhere. I then got recommended to Bryan and only had 10 lessons with him and passed first time. What an amazing instructor and would 100% recommend to anyone who wants to drive. Especially the nervy ones as he manages to hide your nerves by having plenty of laughs with the mistakes you make and makes you feel at ease. Thank you so much, Bry! Was such a pleasure to be with you. Worth every penny. Gonna miss ya! See you out on the roads mate.
Harrison Boulter, from Loughton
Passed FIRST TIME October 2017
Beth, Wrote.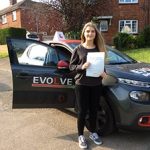 Passed first time with Bryan. He's an amazing instructor who makes you feel comfortable and at ease. Bryan has a great style of teaching that makes it so much easier to understand and at the same time enjoyable. I wouldn't have passed without him, especially as a nervous driver who thought I'd never pass he really helped build my confidence on the road. I definitely recommend Bryan and evolve driving school if you want to become a great driver with the most reliable and professional instructor. Thank you again for all your help.
Beth Rooks, from Simpson
Passed FIRST TIME October 2017
Beth, Wrote.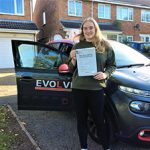 I passed first time today with Bryan as my driving instructor. I would definitely recommend Evolve to everyone as he is such a good instructor, he's very focused on getting me to be the best driver I could possibly be and getting me ready for my driving experience in the future. He puts you at ease and always makes you laugh, every lesson was a fun but productive lesson. He's got a lot of patience and will always try to bring out the best in you. If you are thinking about taking lessons I would highly recommend Evolve.
Beth Kitchen, from Stantonbury
Passed FIRST TIME October 2017
Lauren, wrote.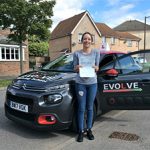 I passed my practical test first time today, this was all thanks to Bry! Bry was a very diligent instructor who helped me overcome my nerves when driving. The lessons were fun and Bry kept me at ease. The driving experience was professional and safe but also a fun learning environment, which helped increase my confidence when driving. Bry ensured that I was thoroughly prepared for my driving test, he ran through the essential manoeuvres and tips on calming my nerves. Bry is an instructor that I would highly recommend to any aspiring driver. Thank you so much, Bry!
Lauren Callis, from Monkston
Passed FIRST TIME August 2017
Oliver, Wrote.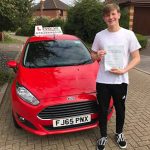 Had Colin as a driving instructor, I passed with 20 hours exactly and honestly probably had the best instructor. He knew everything about the test and what I had to do in order to pass. Was always willing for extra hours and turned up exactly on time. I recommend Evolve driving school to anyone.
Oliver Chapman, from Kents Hill
Passed FIRST TIME August 2017
Erica, Wrote.
Colin is a great instructor that adapts his teaching style to each individual. He also breaks down manoeuvres into manageable steps that are easy to follow and remember.
Erica Street, from Wavendon
Passed August 2017
Rebecca, Wrote.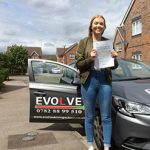 Today I passed first time and this was down to Bryan! He is an amazing instructor, definitely, pushes you to your maximum but this is needed in driving and is exactly why I passed. He taught me things that maybe weren't needed for the test but they will hopefully now make me a really good and knowledgeable driver so he went above and beyond in teaching me to drive! I would highly recommended Bryan and Evolve driving school to anyone looking at learning to drive.
Rebecca Taylor, from Monkston
Passed FIRST TIME July 2017
Josie, wrote.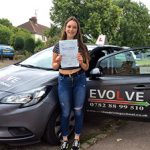 Bryan was an understanding instructor who knew how to overcome every hurdle which was faced. Nothing was ever an issue for long and if he could teach me how to drive he could teach anyone both confidently and safely. I would never have passed without his guidance and reassurance! Amazing instructor and also knew how to find the funny side of every situation. Great professional and a great person. Thanks, Bry from 'sorry'. Ciao
Josie Jessop, from Great Linford
Passed July 2017
Tori, Wrote.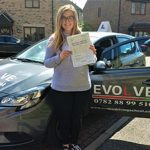 Today I passed my driving test first time thanks to Bryan and Evolve Driving school. Bryan is a brilliant instructor who made me feel very confident and relaxed whilst driving and I could not thank him enough. He pushed me to be my best whilst driving and not only tells you how to do things but explains why you are doing them as well. Thank you again, Bryan.
Tori Hawkins, from Monkston Park
Passed FIRST TIME May 2017
Rosie, wrote.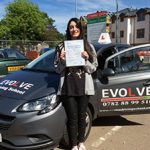 Evolve driving school was reliable and gave me the confidence to learn to drive and pass my test. Bryan is patient and made learning to drive funny but serious when needed.
I'm really glad I chose Evolve driving and I really recommend them if you want a relaxed experience learning to drive!
Rosie Clare, from Woburn Sands
Passed may 2017
Slondy, wrote.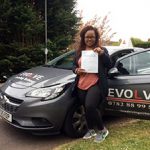 I passed my driving test first time yesterday at Bletchley test center and I couldn't be more excited about my experience and achieving the end goal. I had so many difficulties including my nerves at the start, but Bryan has been very patient and persistent to get me to a good driving standard.
He has tailored his style of teaching to push and encourage me to be a more relaxed and a safer driver. He has pushed me in every lesson to get me to where I need to be and gives a lot of honest feedback so I was very much aware of what we needed to do and focus on to get the job done. I will highly recommend Evolve I have had a good experience and results.
Slondiwe Mkhize, from Little brickhill
Passed FIRST TIME April 2017
jack, wrote.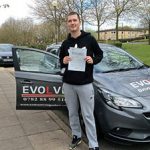 Amazing teacher, easy to get along with and will definitely help you pass quicker than most instructors and you'll have fun while learning which makes it a lot easier to learn and then pass, really enjoyed my time learning to drive with Bry.
Jack Brennan, from Downs Barn
Passed April 2017
Alex, wrote.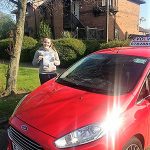 The best driving school I've been with, after going through a couple of not so great driving schools I finally found a company who made me feel at ease and confident as a learner. Unfortunately, I failed my first test not as a fault of theirs but from not having lessons for a couple weeks as beforehand as was changing companies but today I passed and it was a great feeling! Cannot thank Colin my instructor but also Bryan for the support and confidence in me for passing! Would highly recommend Evolve to anyone and everyone learning to drive as a first-time learner or someone wanting to change instructors. Both are so lovely and easy to get along with but also motivational as they are confident in you and definitely know what they are on about!
Thank you, Colin and Bryan x
Alex Wagstaff, from Furzton
passed April 2017
Shane Nicholls. FIRST TIME Pass.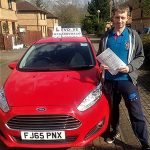 Shane Nicholls passed his driving test first time with only 4 minor driving faults.
A great drive from him to get such a low fault score with your instructor Colin.
Shane Nicholls, from Shenley Lodge
Passed FIRST TIME April 2017
James, wrote.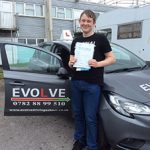 Learning to drive can be extremely stressful experience and you need a good instructor, I extremely recommend Evolve driving school due to the excellent learning experience I'd had. My instructor Bryan is an all round perfect instructor, who got me to a first time pass on my test. He's extremely patient, helpful and knowledgeable of his teaching profession; anyone who goes learning with Evolve is in very safe hands. He really took the stress out of learning to drive and very quickly becomes fun to learn, they really care about your progress to become a safe, confident and capable driver.
Bryan is very proud of his work, teaching those who learn with him to become great drivers not just to pass the driving test but to become great drivers with the right techniques and attitude to driving. Anyone who wants to really learn to drive, and become a great driver; look no further go to Evolve.
James Andrews, from netherfield
Passed FIRST TIME March 2017
Emily, and mum Wrote.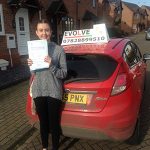 Having only been with Evolve for a short amount of time before passing my test, I would highly recommend them to someone who wants to learn to drive and wants to feel at ease in the car. Colin has great patience and knowledge, and builds your confidence on the road and is easy to get along with. Thank you again.
Thank you, Bryan and Colin. You only had my daughter Emily for a very short time but gave her a huge confidence boost. Mother of Emily.
Emily Brown, from Furzton
Passed FIRST TIME with us March 2017
Sean, Wrote.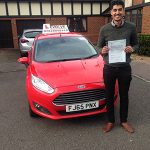 I passed first time with the excellent help of Colin at Evolve driving school, who made every driving lesson fun and enjoyable. Colin not only was a very experienced driving instructor but also understood that we as learners may struggle with certain areas of driving. He often catered specifically to my areas of weakness so that I could improve both for my test, but also for my driving overall. Having only had 10 hours of driving with Colin really shows the quality of his instructing. I would like to say another big thank you to him for getting me through the test first time!
Sean Chal, from Loughton
Passed FIRST TIME February 2017
Mario De La Cruz.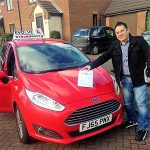 Mario De La Cruz from Crownhill, passed his driving test FIRST TIME with flying colours after undertaking one of the hardest test routes. Enjoy your freedom Mario. You earned it.
Mari De La Cruz, from Crownhill
Passed FIRST TIME February 2017
Hannah Fisher.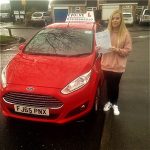 This is Hannah Fisher from Newport Pagnell who passed her test with Colin our driving instructor. Controlled her nerves brilliantly to get her driving freedom with our driving school.
Hannah Fisher, from Newport Pagnell
Passed February 2017
Kris Wallace.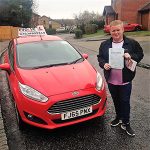 This is Kris Wallace who passed his driving test FIRST TIME with only 8 driving faults with the help of Colin our driving instructor. Another first time pass for Evolve driving school.
Kris Wallace, from Crownhill
Passed FIRST TIME February 2017
Chris, wrote.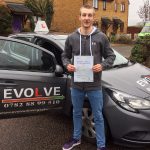 Happy to have passed my driving test today, and very pleased to have done so with Evolve Driving School. After weeks on end having problems with another driving school and not receiving lessons. I came across Bryan and Evolve and thankfully he was able to fit me in on such short notice albeit how busy he was. The way Bryan teaches, in my opinion, is how a great instructor should be, very relaxed when talking and giving instructions, knowledgeable, confident, focused, understanding and very down to earth. Even when making mistakes Bryan is very patient and gives great tips and lessons on how to rectify and improve. Always helps being able to have a laugh and enjoy learning to drive, which is exactly what Bryan did and made my experience of becoming a fully qualified driver all the more fun and memorable. And it really shows how passionate he is towards helping you learn as a driver. For anyone out there looking for a great driving school that gives good value for money and more importantly a very reliable, honest and fun instructor then I could not recommend Bryan and Evolve Driving School anymore.
Thank you, Bryan for giving me more freedom and some good memories I can look back on.
Chris Vela, from Monkston
Passed January 2017
Connor, wrote.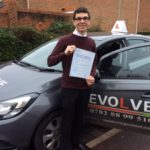 Would 100% recommend Evolve Driving School to anyone looking to learn to drive in the MK area. Bryan has an amazing sense of humour and creates such a relaxed atmosphere that it's almost uncanny how fast you get used to being in a car with him. He also managed to adapt to my learning style faster than I thought possible, allowing him to constantly push me but not so much that I felt uncomfortable with what I was doing. All in all learning with Bryan at Evolve Driving School has been an absolute pleasure and without his help, I would not have been able to pass my test first time.
Cheers Bry, have a good one!
Connor Campbell, from Bletchley
Passed FIRST TIME january 2017
Emma, wrote.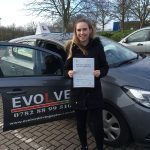 I am so happy that today I passed my driving test with Evolve Driving!
After trouble with a previous driving school, I needed someone who was always reliable – which Bryan certainly was.
As someone who was very anxious and lacked confidence on the road, I never thought I would get my licence, and I honestly believe Bryan was the only instructor who could get me to pass as he pushed me every single lesson which helped build up my confidence so much!
Learning with Evolve has been such a great experience for me as Bryan taught me so much knowledge about the road and passed on lots of techniques to me all while having a laugh and making me look forward to every lesson I had!
I would recommend Evolve Driving school to anyone learning to drive.
Thank you!
Emma McDonald, from Westcroft
Passed January 2017
Nikki, wrote.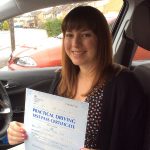 So happy and relieved that I have passed my driving test today! I couldn't have achieved it without the help of Evolve driving school. Bryan has the patience of a saint! I have not been the most motivated or enthusiastic learner and I thought I would never be ready for my test, however, Bryan really helped to push me and build my confidence. I always felt comfortable when learning with Bryan, I actually felt like I was learning something and that my lessons were heading in the right direction. I had a different instructor prior to Bryan and gave up for a while because they were not teaching me the right skills. Thank you, Bryan, for your patience, great knowledge, techniques, honesty and for helping me find the confidence I needed to pass my test and to start to enjoy driving! I would definitely recommend Evolve Driving School to anyone looking to learn how to drive.
Nikki Aires, from Oldbrook
Passed January 2017