Driving school reviews Milton keynes

OUR DRIVING TEST PASS REVIEWS FROM 2014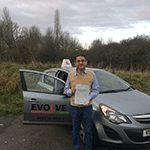 Re-learning how to drive a car with Bry was a wonderful experience. When I was looking for an ADI, I was unaware that choosing him will prove such a good decision. It wasn't an easy job for him, to rectify my old (and often faulty) driving habits, which I acquired over a period of many years while driving outside UK. I can imagine how much patients he has to have, when a student like me keeps on making the same mistakes again and again. And every time, Bry with his smile, explains on paper or iPad or on road like the first time. With his brilliant sense of humour, he never let me realize how slow a learner I am.
During my driving lessons, I always enjoyed his way of teaching. I found him a thorough gentleman with a professional approach. He was always punctual, to the point, and keen to teach. The best part of his teaching is confidence, which he instils in his pupils. Right from first lesson till test day, he made this journey a memorable experience. His aim was always 'Safe Driving for Life'. During his teaching, I re-discovered the art of driving and realized that it's a continuous process.
I rate him very high as a professional driving instructor and recommend him to any driver with any level of experience, who wants to polish their driving skills. Thank you Bry.
Muhammad Ashraf, from Monkston Park